In the previous blog post, we have talked about the importance and benefits of conducting RSVP Webinars, especially for B2B businesses. To recap, having an RSVP Webinar as part of your business marketing strategy is useful as webinar allows better engagement and conversion rates with your target audience with its online tools, accessibility of locations, high replay value after the event has ended, and lower costs to host the event.
What does it take to make your webinar successful? You would need to factor in some consideration for your audience attending your event. Based on the study conducted by Insidesales.com, the average attendance for webinar sessions is around 40%.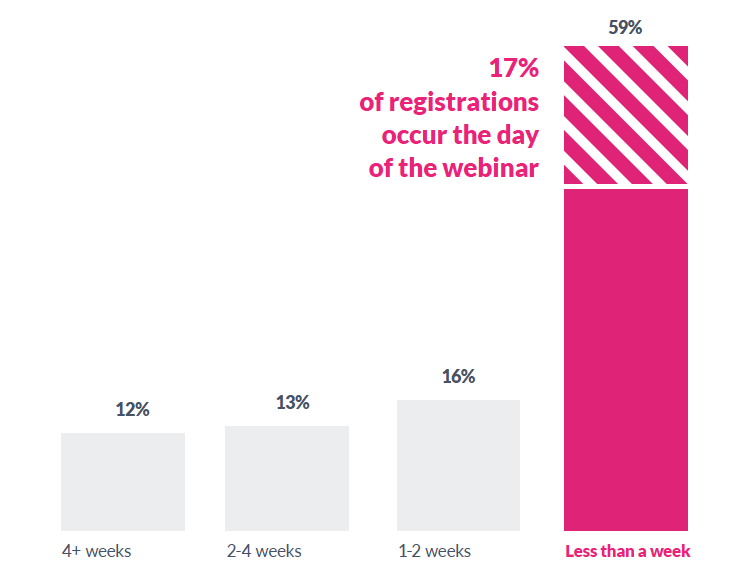 Source: The percentage of people signing up for webinars on different dates by GoToWebinar
It is also important to note that most webinar sign-ups occur the week before the webinar, as seen as 59% of signups observed by GoToWebinars. You might expect 25% of your audience signing up for the webinar to opt to watch the replay of your event instead.
To drive up and increase attendance rates to your upcoming RSVP webinar, there are several ways you can do to entice your audience to sign up for your event as soon as possible. Four common ways businesses have done to incur sign-ups are through Email Marketing, Telemarketing, Landing Page, and Social Media Marketing.
Send out appealing Email Marketing Messages: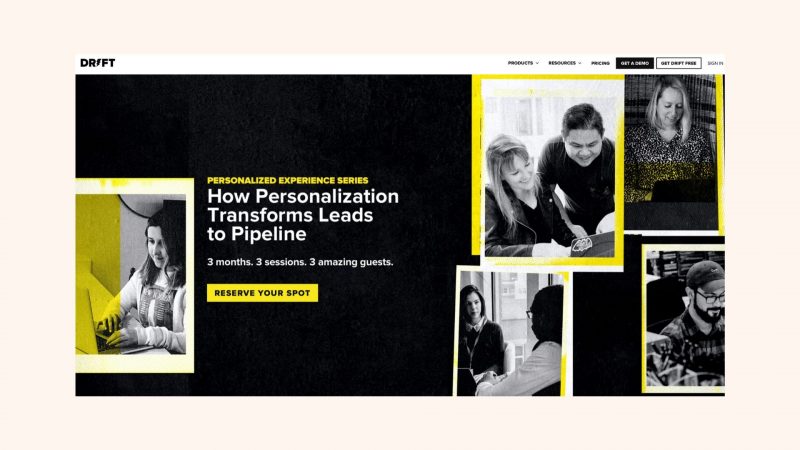 Example of an appealing Email Marketing done by Drift
One of the common and effective ways to promote your RSVP Webinar is through email marketing, as emails drive 57% of webinar registration.
After segmenting your target audience in your email database, give the best first impression to your recipient. The important thing is to keep your email short and concise and have an easier way for your target audience to sign up for your webinar.
Personalizing the email by focusing away from your company and instead talk about the benefits of your event as if you are explaining it to a close friend. 

As webinar as a visual medium, to increase click-through rate to your webinar and show your recipient the quality value-added to your webinar, use a high-quality image to summarise what your event is about at the top block of your email. 

Have details and a biography regarding the speaker of your webinar in the body of the email to give assurance to your recipient that they are interacting with an expert in the field. 

Feature Date and Time of Your webinar prominently in your email.  

Provide a call to action to sign up for your webinar through links and button
After your target audience has agreed and signed up for the RSVP  webinar, it is important to keep in contact with them, to remind them about the webinar event, and as a form of courtesy.
1) Send a thank-you email and confirmation of registration to them as a reminder and acknowledgment for attending the webinar. If possible, do add a call-to-action in both emails to encourage them to add the webinar dates to their calendar.
2)Send reminder emails at least 1 week and a day in advance regarding your webinar, in case they have forgotten about the event itself. The duration for the reminder email is up to you, depending on what works best to keep your attendee reminded about your event.
Promote RSVP Webinar through Telemarketing:
Telemarketing can be another way to promote your RSVP webinars as it is commonly used to help clients to collect and gather sign-ups. Unlike other online methods, telemarketing is usually done concurrently and directly to your target audience.
1) Inform your target audience about your upcoming webinar by directly contacting them first. Calling them up about your RSVP event can make your invitation to your target audience more personal to have their interest to sign up for the event and potentially convert them into future buyers. While telemarketing to your target audience, a few tips to take note of is to have your speech be short and simple and straight to the point to reduce the chances of them hanging up the phone.
2) Nearing the date of the RSVP webinar, be sure to place reminder calls to remind and confirm to your target audience about your event. Just like what has been previously mentioned, unlike other online communications like email, where it could be ignored or deleted, personally calling them would be more effective for the target audience to get to know more about the event in real-time.
At InCall Systems, we do provide telemarketing services to businesses in need to promote and incite more interest and attendance to their RSVP webinar campaign. Through calling in different timings during work hours, in reaching out to potential customers and prospects, 2,338 calls have been made and resulted in 163 nurturing leads in the next quarter.
Landing page for your RSVP webinar:
Example of a landing page for a webinar sign up done by WordStream 
Landing Pages are pages from links that visitors have clicked into from other online platforms (Social Media Posts, Marketing Advertisement, etc). Having a landing page can be useful to drive sales and conversions to your webinar by giving your business a platform to offer a unique value proposition about your webinar.
Below are the main parts you can put inside the landing page: 
1) Content and Learning Points of Webinar  
2) Date and Time the webinar is occurring  
3) Speakers presenting in the Webinar 
4) Sign up form consisting of Name, Email, and Company Name 
5) If possible, add in testimonies about your webinar event from previous attendees
5) Visible Call to Action to sign up for the webinar with buttons
Social Media Marketing: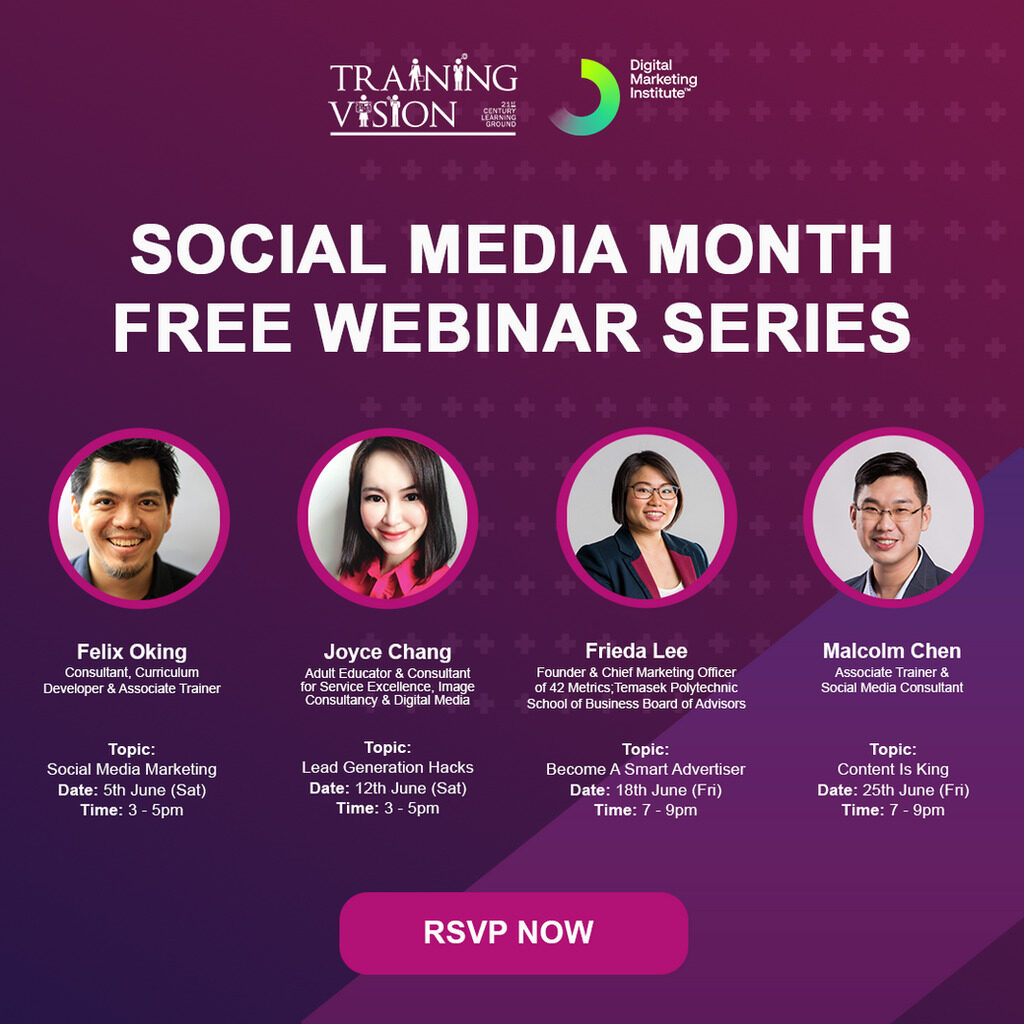 An example of a Social Media Post made by Training Vision
Other than email marketing, there is a chance that your social media followers may be interested in attending your webinar, so you can use the opportunity to promote to your audience in your social media accounts about your webinar on your various social media platforms.
Other than approaching reminders before the launch for your webinar, you can use dedicated hashtags for your webinars and link the landing page for easier sign up for your audience, or use the hashtags to encourage discussions and questions about the webinars. As a result, you can involve your audience and introduce more people to your brand and your webinar.
Other than promoting the event, you would also need the "hook" to give the urge to your target audience to sign up for your event as soon as possible.
Increase the perceived value of your RSVP webinar: 
One way you can do it so to offer some bonuses exclusive to those who attended the webinar, for example, a discount code and personalised template relating to the event itself. With the incentive of free, useful goods to get in your webinar, your audience would less likely want to miss out on attending your event. 
Types of speakers:
The speakers you invite to host your RSVP webinar can also incentivise your target audience to sign up for your event. If your guest speaker is well-known in their field and is popular, it can be a good way to boost attendance and build up your webinar as a reliable and trustworthy event.
Scarcity: 
Another way to leverage more sign-ups to your webinars is by giving a sense of urgency to your audience to quickly sign up for your event. For example, you can limit the number of registration spots of your webinar and emphasis that aspect while promoting your webinar. "There are only 50 spots available. Sign up now to secure your spot in [insert webinar]!" 
Conclusion:
Looking at the tactics to conduct RSVP webinars, the success of more people attending your webinar would also depend on how you promote your event to your target audience by leveraging other online platforms and enticing incentives.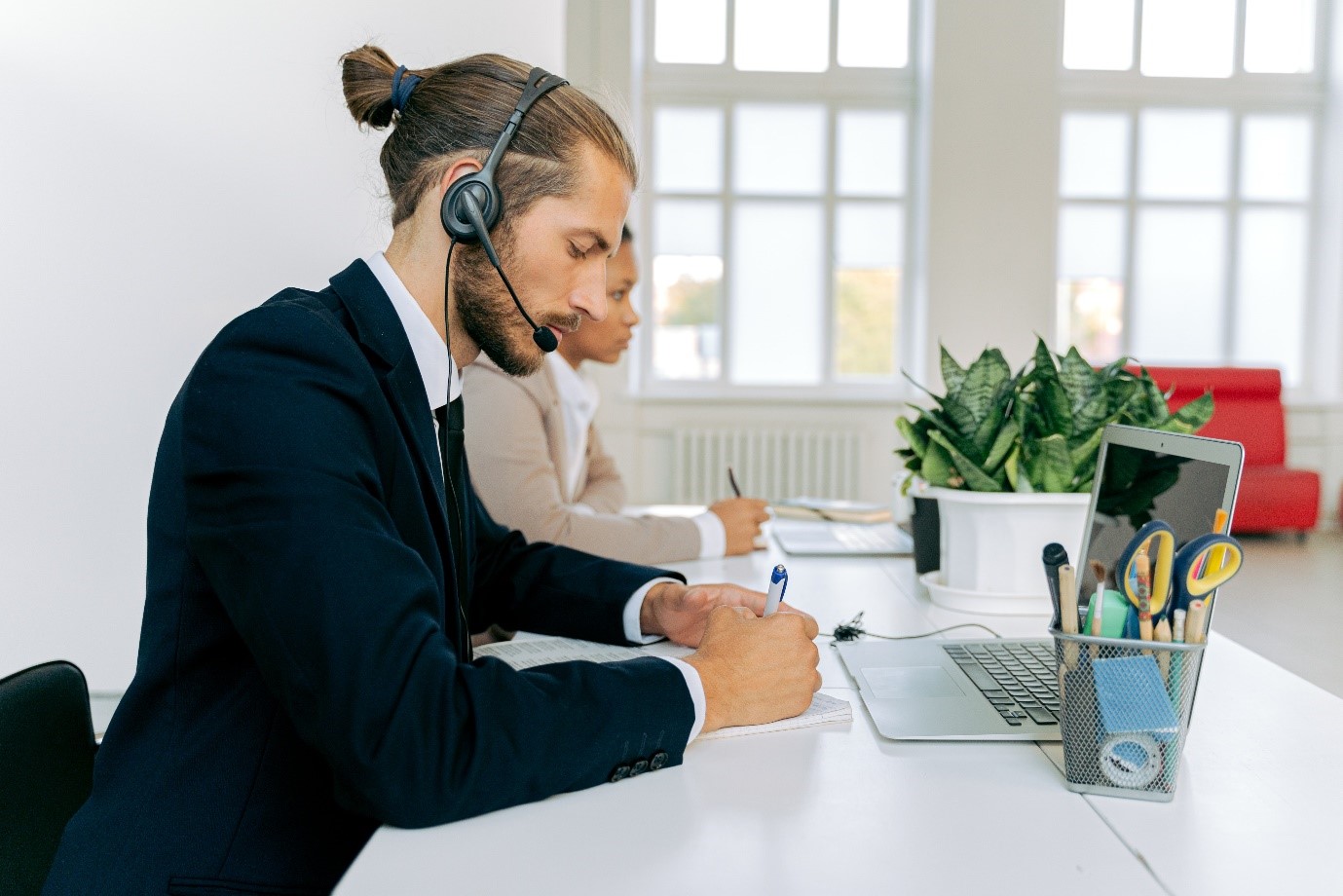 The digital world is constantly evolving and marketers rely heavily on digital marketing to take advantage of the evolution. During this process of using online
Read More
Finding it a tough time to generate business demand during these unprecedented times?
Arrange a consultation with us today and let us help your business generate quality leads and sales ready opportunities.